Description of Database: Our database covers a wide variety of religious affiliations. Some of the religions covered in this database include: Baptist, Catholic, Christian, Church of Christ, Episcopal, Church of the Nazarene, Independent Fundamentalist, Jewish, Lutheran, Mennonite, Metaphysical, Methodist, Mormon, Non-Denominational, Orthodox, Pentecostal, Presbyterian, Adventist, and more.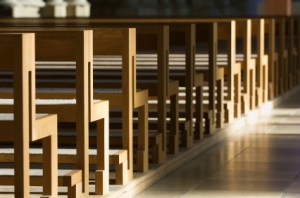 List of 21 Database Fields
Unique Identifier
Business Name
Church Denomination
Physical Address
Physical Address City
Physical Address State
Physical Address Zip
Physical Address Country
Physical Address County
Physical Address Area Code
Federal Information Processing Standard
Metropolitan Statistical Area
Primary Metropolitan Statistical Area
Location Time Zone
Daylight Savings Time (Yes, No, Unknown)
Latitude (Centroid Based)
Latitude (Precision Polygon Based)
Longitude (Centroid Based)
Longitude (Precision Polygon Based)
Business Phone Number
Website URL
Below is a breakdown of all the fields in the database. For example, the database has the "Business Name" for 100% of the database (or 110,003 entries).
| Records | Percent | Comment |
| --- | --- | --- |
| 110,003 | 100% | Unique Identifier |
| 110,003 | 100% | Business Name |
| 67,826 | 62% | Church Denomination |
| 109,747 | 100% | Physical Address |
| 110,002 | 100% | Physical Address City |
| 110,003 | 100% | Physical Address State / Province |
| 108,753 | 99% | Physical Address Postal Code |
| 84,202 | 77% | Zip +4 for US Physical Addresses |
| 110,003 | 100% | Physical Address Country |
| 108,700 | 99% | Physical Address County |
| 108,694 | 99% | Physical Address Area Code |
| 108,701 | 99% | Federal Information Processing Standard |
| 59,973 | 55% | Metropolitan Statistical Area |
| 35,549 | 32% | Primary Metropolitan Statistical Area |
| 108,701 | 99% | Location Time Zone |
| 110,003 | 100% | Daylight Savings Time (Yes, No, Unknown) |
| 108,694 | 99% | Latitude (Centroid Based) |
| 109,891 | 100% | Latitude (Precision Polygon Based) |
| 108,694 | 99% | Longitude (Centroid Based) |
| 109,891 | 100% | Longitude (Precision Polygon Based) |
| 12,870 | 12% | Website URL |
| 42,169 | 38% | Business Phone Number |
598 Alaska
2,607 Alabama
1,442 Arkansas
1,468 Arizona
6,451 California
1,586 Colorado
1,663 Connecticut
865 District Of Columbia
860 Delaware
4,638 Florida
3,114 Georgia
665 Hawaii
1,349 Iowa
792 Idaho
4,481 Illinois
2,891 Indiana
1 Kentucky
1,402 Kansas
1,914 Kentucky
2,122 Louisiana
1,955 Massachusetts
2,988 Maryland
857 Maine
3,624 Michigan
1,947 Minnesota
2,387 Missouri
1,291 Mississippi
702 Montana
3,671 North Carolina
690 North Dakota
1,018 Nebraska
762 New Hampshire
3,195 New Jersey
838 New Mexico
747 Nevada
5,187 New York
4,860 Ohio
1,684 Oklahoma
1,394 Oregon
5,808 Pennsylvania
682 Rhode Island
2,381 South Carolina
790 South Dakota
2,768 Tennessee
6,492 Texas
822 Utah
3,168 Virginia
537 Vermont
1,969 Washington
2,278 Wisconsin
1,066 West Virginia
529 Wyoming